by Ivana Militky, Office Manager, Jet-Maid Ltd.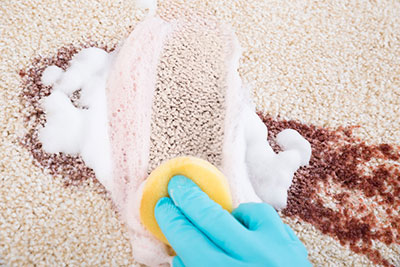 How to remove different types of stains from different types of fibers:
you of course need different types of removers. Described in this chapter are the most effective removers for home use (if you can still find them at stores), plus directions for applying each. However, bear in mind that before using any remover, you should test if to see if it will damage or discolor the fabric being treated.
Test a stain remover by applying it as directed to a hidden part of the fabric, a seam allowance, hem, shirt tail, etc. If the remover damages the fiber or changes the appearance of the material, forget about getting rid of the stain at home. Give the job to a professional cleaner. He/she may not be able to remove the stain entirely, but he/she won't make it worse as you may with the wrong remover.
DETERGENTS
As you know, a detergent is simply a cleansing agent. Some detergents are soap, others are synthetic preparations, but both are equally effective at removing a wide variety of stains. Liquid detergents are particularly suited to this task as their strength is concentrated and they can be worked easily into any fabric. When directions call for a detergent as a stain remover, it is up to you to decide whether it should be a mild or heavy-duty product. In general, if the fabric and/or dye is delicate, a mild detergent is safer; however, if the stain is stubborn, a heavy-duty preparation may be called for. Test it first, of course.
How to use a detergent on washables:
To remove surface stains, simply dampen the stain, then rub in a detergent lightly - or use a liquid detergent and you do not have to bother dampening the stain.
I like to use on white fabric - liquid dishwasher detergent. It always works for me.
Finish up by rinsing the affected area thoroughly or washing the article as usual.
To remove stains that are deeply embedded, work a detergent thoroughly into the fiber using toothbrush, but avoid heavy rubbing; it is not beneficial and can be harmful, especially on silk, wall or denim. (It is recommended that you don't even attempt to treat stains on silk at home.) On wet silk, rubbing breaks down the fibers and causes permanent light areas. On denim, rubbing causes the dye to rub out and the spot to remain. Instead of rubbing, tamp the area to assist in stain removal.
Note: Rubbing is safe on dyed polyesters.
How to use a detergent on non-washables:
Work the detergent into the stained area as for washables (above), but if you use liquid detergent, dilute with an equal amount of water. Use a little detergent as possible, as it is hard to remove any excess without witting a large area of the fabric. Rinse by sponging with cool water, or by forcing water through with a syringe.
Thanks,
Ivana Militky
Since 1984 Jet-Maid Ltd. provides professional cleaning services in the West Toronto Area including: Mississauga, Oakville, Etobicoke, Vaughan, Burlington, Georgetown, Milton, Brampton, and surrounding areas.
Click here to see our Cleaning Coupons and Cleaning Gift Certificates
Click here to request a FREE Cleaning Quote
Disclaimer: The information contained in this article is for information purposes only, and may not apply to your situation. The author provides no guarantee about the content or accuracy of content enclosed, and is not liable for any damages. Information provided is subjective. Keep this in mind when reviewing this article.
View other articles